Guide to Plagiarism, Research and Referencing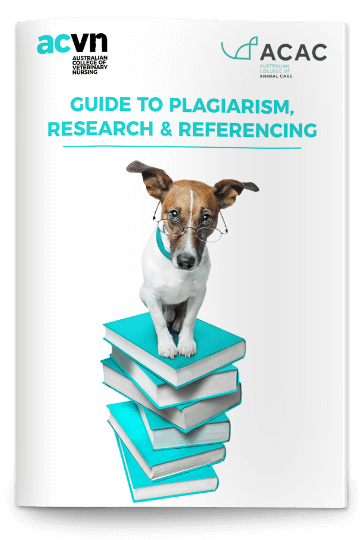 Introduction
It is important that students have the ability to research, reference where appropriate, and recognise and avoid the use of plagiarism. Following the procedures in this guide will ensure that your studies are enriched by wide-ranging research that complements your knowledge and allows you to develop your own understanding and individual opinions.
This guide will take you through the basics of plagiarism, research and referencing. Further, it will show you how to identify a credible source, correctly reference it and create a bibliography following the Harvard reference system.
---
Written by Georgia Steven.
Copyrighted materials reproduced herein are used under the provisions of the Copyright Act 1968 as amended, or as a result of application to the copyright owner.
No part of this publication may be reproduced, stored in a retrieval system or transmitted in any form or by any means electronic, mechanical, photocopying, recording or otherwise without prior permission.
Examples of referencing using Harvard style
Gandolfi-Decristophoris, P, Regula, G, Petrini, O, Zinsstag, J & Schelling, E 2012, 'Prevalence and risk factors for carriage of multi-drug resistant Staphylococci in healthy cats and dogs', Journal of Veterinary Science, Seoul, Korea, vol. 14, ed. 4, pp.449-456, date viewed: 23 December 2013, available from: <http://pdf.medrang.co.kr/JVS/014/JVS014-04-11.pdf>
Greenfield, S 2012, 'Mental Stimulation as a Stress Reliever in Patients', The New Zealand Veterinary Nurse Journal, Christchurch, New Zealand, vol. 18, ed. 62, pp.6-7.
Intervertebral Disk Disease n.d., VeterinaryPartner, viewed 20 December 2013, <http://www.veterinarypartner.com/Content.plx?P=PRINT&A=3215>
Lumb & Jones' Veterinary Anesthesia and Analgesia, n.d. photograph, viewed 20 December 2013, <http://au.wiley.com/WileyCDA/WileyTitle/productCd-0781754712.html>
SEER Rubric n.d. Turnitin, rubric, viewed 20 December 2013, <http://pages.turnitin.com/rs/iparadigms/images/Turnitin_WhitePaper_EvaluatingSources.pdf?mkt_tok=3RkMMJWWfF9wsRoks6TKZKXonjHpfsX66u0vXKezi4kz2EFye%2BLIHETpodcMT8tmPK%2BTFAwTG5toziV8R7nCJM1s0dkQWRHh>
Tranquilli, W, Thurmon, J & Grimm, K (eds) 2007, 'Lumb & Jones' Veterinary Anesthesia and Analgesia', 4th edition, Wiley-Blackwell, Iowa, USA, pp.164.
Tumblin, D & Materni, C 2013, '3 bad spending habits of veterinary practice owners and managers', dvm360, date viewed: 20 December 2013, <http://veterinarybusiness.dvm360.com/vetec/Veterinary+business/3-bad-spending-habits-of-veterinary-practice-owner/ArticleStandard/Article/detail/829731?contextCategoryId=46659>
Turnitin n.d., 'What's Wrong with Wikipedia?' Turnitin, date viewed: 23 December 2013, <http://pages.turnitin.com/rs/iparadigms/images/Turnitin_WhitePaper_EvaluatingSources.pdf?mkt_tok=3RkMMJWWfF9wsRoks6TKZKXonjHpfsX66u0vXKezi4kz2EFye%2BLIHETpodcMT8tmPK%2BTFAwTG5toziV8R7nCJM1s0dkQWRHh>